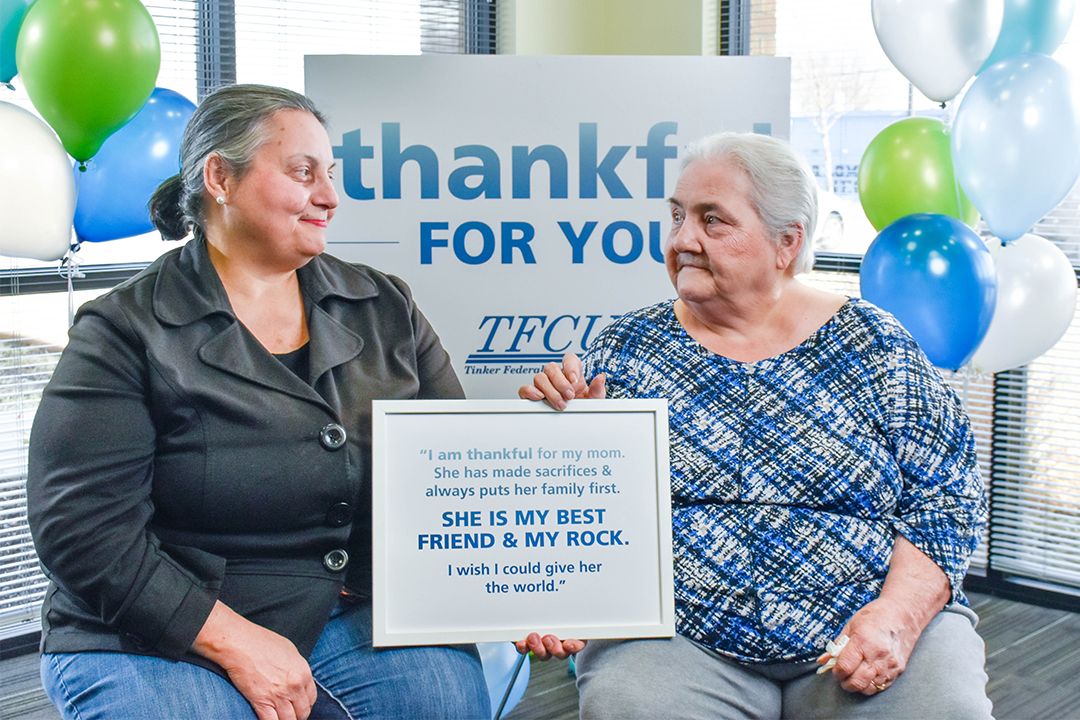 'Thankful for You' Winner: Italian-American Grandmother Dishes Up Love (and Spaghetti)
Only 17 years apart, Rhonda Driskell and her mother, Jan Smith, know how to celebrate and support one another. Rhonda nominated Jan to win a $300 gift card in Tinker Federal Credit Union's 2019 "Thankful for You" social media contest.
"I'm thankful for my mom," said Rhonda. "She's made sacrifices and always puts her family first. She's my best friend and my rock. I wish I could give her the world."
With 12 grandkids and a half a dozen great-grandkids, Jan serves up lots of food and love, but the generosity doesn't stop with family. "Especially at Christmas and Thanksgiving, we invite whoever," said Jan. "The house is open, come."
"I like to make spaghetti, and I like roast and cakes and pies and just a pretty big variety of everything," said Jan. "My husband was from Arkansas, so he's a Southerner, and I learned some new tricks when we got married (like how to make fried chicken)."
When Rhonda, Jan and their Italian-American family get together, the volume goes up. "I wouldn't want anyone that didn't know us to just walk in," said Rhonda laughingly. "They'd think we were arguing….Everyone's talking, multiple conversations going on."
When the grandkids come over to Jan's, they can count on grandma for some extra cash. "All the younger kids have a little standing joke when they see Grandma," said Rhonda. "She gives them the old handshake with the money. That's something they joke about, us being Italian."
Around six years ago, Jan looked to her credit union of 20 years to lend her money for an auto loan. "The guy told me that my credit union wouldn't accept our finance thing," said Jan. "He said, 'But Tinker will.' And I thought, well, we're not even a member of those people. And I mean they (TFCU) gave me a good rate and financed my car, and I haven't had a bit of trouble….I moved my savings, everything….I like that BillPay!"
Since then, Rhonda has joined TFCU and so has Rhonda's niece, who also needed an auto loan. "We tell everybody to come to Tinker," said Rhonda.
TFCU team members look for fun and meaningful ways to give back to TFCU members and the community throughout the year. The annual "Thankful for You" social media promotion is just one opportunity to win. Follow TFCU's Instagram, Facebook or Twitter for the latest promotions and community support programs in action.