TFCU Surprises Millionth Mobile Deposit Member with Extra Cash
OKLAHOMA CITY – Tinker Federal Credit Union (TFCU) recently surprised one of its members by matching a mobile deposit she made using the credit union's Home Branch Mobile Check Deposit. That deposit was TFCU's millionth mobile check deposit since the service launched in 2013.
Rebakah Maynard, who has been a TFCU member since 2009, got a call from Jan Davis, assistance vice president and branch manager of the credit union's Moore branch, letting her know there was a surprise waiting for her at the branch. Maynard agreed to come to the branch on August 25.
"I had no idea what the call was about, but I was very excited to find out what the surprise was," Maynard said.
Upon entering the branch, Maynard was met by Davis and other employees of the credit union with the news she had made the millionth deposit using TFCU's mobile check deposit service. She was presented a check matching that deposit of $557.11.
"I was very surprised," Maynard said. "I use mobile check deposit once a week. I love it because it is so easy. I also have a loan and do direct deposit at TFCU."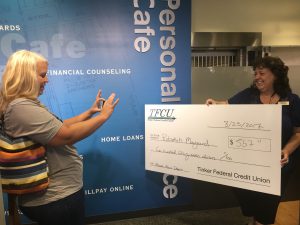 While she was surprised to receive a check and a thank you from the credit union personally, she said she was not surprised that TFCU would do something like this for their members.
"They are just very convenient and always friendly." Maynard said. "I've never had an issue with customer service. They are always great."