TFCU Financial Educator: Joe James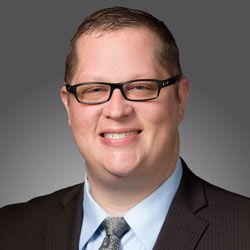 Joe is a Financial Educator at Tinker Federal Credit Union.  He specializes in teaching financial literacy workshops to high school-age students, but also teaches at businesses and community organizations. Joe has an Associate's Degree in Business from Oklahoma City Community College, a Bachelor's Degree in Finance from the University of Central Oklahoma and a Master's Degree in Educational Leadership from Southern Nazarene University. Before TFCU, Joe was a public school teacher for 10 years. He taught special education at Western Heights, Putnam City and Moore schools; teaching various levels of science, US History, math and English.
Joe's passion and inspiration for teaching financial literacy comes from time spent teaching at low-income schools where students often lacked basic necessities such as school supplies, clean clothing, proper hygiene needs and sometimes meals. There were also students who did not have the opportunity or means to participate in extra-curricular activities. All of these factors contributed to the drive and determination Joe has put into helping facilitate a solution to end these prevalent poverty cycles through teaching financial literacy.