TFCU Financial Educator: Giovanni Monterroso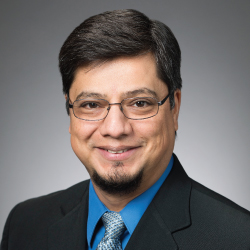 Giovanni Monterroso is a Financial Educator and Certified Financial Counselor at Tinker Federal Credit Union. He provides financial education throughout the state to K-12, Colleges, as well as business and organizations. He has multidisciplinary B.A. with emphasis in Business from Southern Nazarene University, a Master's degree from Nazarene Theological Seminary. Before joining TFCU, he spent 3 years providing training among various indigenous groups in Guatemala, Honduras, and El Salvador.
Giovanni has a Financial Counseling certification from the National Credit Union Association. He is also a graduate from the OKC Latino Leadership program from the Greater OKC Hispanic Chamber of Commerce. He serves in the Central Oklahoma Junior Achievement Board, the Oklahoma Jump$tart Coalition Board, and is member of the Advisory Committee for the Cornerstone Foundation.
Giovanni's passion for teaching others about personal finances is rooted in his own personal experience. He understands the stress that money can have on school, marriage, and life in general. He believes that living the life people want is directly impacted by their ability to manage their money, so by helping others learn to manage their personal finances, he is helping them obtain the tools they need to live the life they want.