TFCU Celebrates 70 Years of Service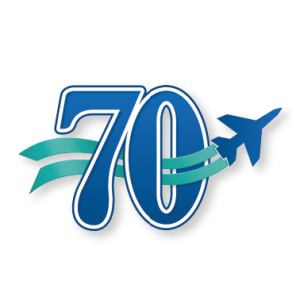 On March 20, 1946, a small group of Tinker Field civilian employees were looking for a different way to save and borrow money. Together, they pooled their resources and founded the institution now known as Tinker Federal Credit Union. The single branch at Tinker Field has grown into 30 branches with over $3.4 billion in assets and 320,000 members. TFCU is now Oklahoma's largest credit union, serving Tinker Air Force Base, Vance Air Force Base and the employees of over 700 area companies.
In celebration of our 70th anniversary, TFCU will be offering a special, limited-time rate of 0.70% APR* for storm shelter loans. With a rate this low, there is no better time than now to think about purchasing a storm shelter. This offer ends April 30, 2016.
Join us for cupcakes at all full-service branches on Friday, March 18, 2016, to celebrate our birthday. In addition to the special storm shelter loan rate and cupcakes, select branches will host Roxy's Ice Cream truck in March. The first 70 members to visit the ice cream truck, at each location, will receive a free scoop of ice cream, courtesy of TFCU.
Roxy's Ice Cream Schedule
Each truck will be on-site from 11:30 a.m. to 1:00 p.m. Roxy's Ice Cream will be at the following branches:
Monday, March 7 – Norman West Branch (301 36th Ave., N.W.)
Tuesday, March 8 – Edmond West Branch (1401 N. Kelly)
Thursday, March 10 – OKC, Tri-City Branch (4101 SW 134th)
Friday, March 11 – Yukon Branch (11209 W. Reno Ave.)

Monday, March 14 – OKC, Northeast Branch (1177 N.E. 23rd)

Wednesday, March 16 – OKC, Capitol Hill Branch (2315 S. Western Ave.)

Friday, March 18 – MWC Branch (6501 Tinker Diagonal)
* Rate of 0.70% APR is effective 2/1/2016 – 4/30/2016. Rate: 0.70% Annual Percentage Rate (APR). The repayment term is based on 12 months per $1000.00 borrowed with a maximum term of 60 months. Borrower must be property owner on which the shelter is being installed. Purchase contract is required with check payable to the contractor.