TFCU Branch Closed, Promises to Rebuild
Member Information and Property Secure In Aftermath of Moore Tornado
"We will rebuild" is our promise, as we continue to scour through what remains of our Moore branch. That facility, located at 400 S.W. 6th Street, was destroyed in the F-5 tornado that hit Moore on May 20, 2013. All other TFCU branches are open.
The safe deposit box vault – the same one that sheltered 14 employees and eight members during the tornado – has been under around-the-clock security since Monday and will continue to be guarded, as we work diligently to arrange for giving members access to their safe deposit boxes.
"We know members are concerned about the contents of their safe deposit boxes that were at the Moore branch," said TFCU Senior Vice President of Marketing Matthew Stratton. "As soon as we can make them accessible, we will contact those members. We want them to know their personal belongings and papers are being closely guarded."
In addition to questions about the safe deposit boxes, the most common question from members who had used the Moore branch has been about where they can conduct their TFCU business in the future. "We have several branches in the general area, as well as a Credit Union Service Center in the same vicinity, where they can continue to take care of their personal financial business," Stratton said.
The computer systems in TFCU branches simply pass data back and forth to a main system which is not located in a branch. No member data is stored on systems in TFCU branches, including the Moore branch.
Stratton also said the credit union will continue to clean up and clear off the property over the new few weeks so new construction can begin.
"As we are working on plans to rebuild and restore our services to this community, we know many of our members are doing the same thing on a personal level," Stratton said. "As their recovery progresses, we encourage our members who have suffered losses to contact us. The credit union has programs designed specifically to help them as they work through this difficult time."
If you are a TFCU member affected by the tornado, please contact us (405-732-0324 or 1-800-456-4828). There may be ways we can help. Click here for information about the Disaster Relief Loan as well as information about the BALANCE Natural Disaster Toolkit. Also, sometime before June 1, please log on to Home Branch and switch from mailed paper statements to e-Statements and e-Notices. This is one small thing that can help protect your identity through an already difficult time.
If you lost your debit card in the tornado and need access to cash, MoneyPlus cards can be issued to you instantly at any other TFCU branch.
The Moore Credit Union Service Center, located at the Malibu Shopping Center, 828 N.W. 12th Street, is now open. TFCU members can conduct most transactions there. They are revising their operating guidelines to better accommodate those members impacted by the storm. The new guidelines include increasing the daily cash withdrawal limit, the check cashing limit for insurance checks, and the expedited amount of deposited insurance checks. They are also waiving check cashing fees.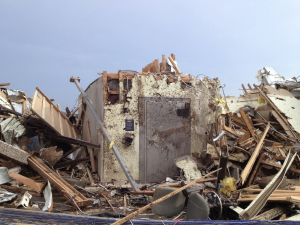 This is the vault where 14 TFCU employees and eight members rode out yesterday's tornado in Moore and emerged safely afterward.