OKC Mayor Recognizes TFCU for Their Work with Local Veterans
OKLAHOMA CITY – Oklahoma City Mayor Mick Cornett was on hand recently to present Tinker Federal Credit Union (TFCU) a proclamation of thanks for its efforts in renovating the homes of four local veterans.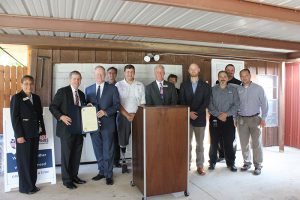 Cornett paid a visit to Oklahoma City resident Gerald Ashley, a retired Marine, at his Oklahoma City home on September 21 to thank him and three other local veterans for their service. The mayor also thanked TFCU, the Veterans Corner, Purple Heart Homes, the National League of Cities, and The Home Depot Foundation for working together to repair Ashley's and other veterans' homes as part of a national campaign – Operation Veteran Home Renovation.
TFCU worked closely with Veterans Corner in Newcastle and national non-profit organization Purple Heart Homes to find local veterans in need of home renovations to help make their home more accessible. TFCU raised over $40,000 and, together with their partners, were able to renovate four local veterans' homes during 2016. For example, TFCU was able widen the doorways and lower the kitchen cabinets in Ashley's home, making them wheelchair friendly and accessible. Volunteers also worked to clean his home and yard.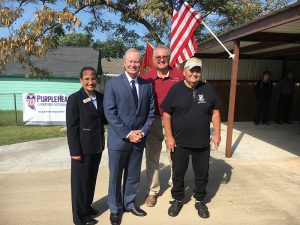 "This is a very patriotic community, and I think that is why so many veterans choose to live here," Mayor Cornett said during the event. "We also have an incredible business community, and Tinker Federal Credit Union is a vital part of that. It didn't surprise me at all when I heard they were a part of this list of organizations helping veterans. They are a part of so many great efforts in this community."
TFCU President and CEO Michael D. Kloiber, who was also present at Ashley's home for the presentation said a few words regarding TFCU's further efforts to continue to help local veterans in need.
"I just want to say thank you to our veterans for allowing us to serve you," Kloiber said. "Our mission as a defense credit union is to serve those who serve us."
TFCU will host a Wild West fundraising event on Thursday, October 26, 2017, to pay for more projects this year to help veterans and their caregivers live safely and comfortably in their own homes.